Spoiler Time: Is Once Upon a Time's Evil Queen really evil?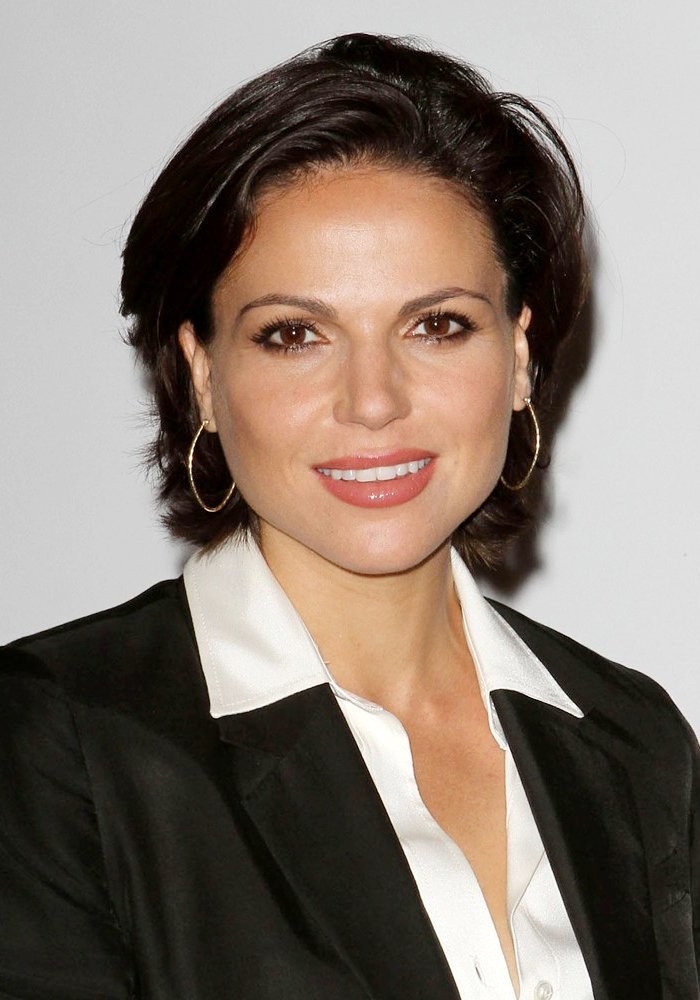 Recently, Once Upon a Time's Lana Parrilla sat down with TV Guide.  During the interview they spoke of her character Regina and whether she was truly "evil," as her name suggests.
Here's the interview:
Regina has spent the first half of this season struggling with not doing magic.
Lana Parrilla: I think it's less of a struggle. I think in the beginning it was, but now I think it's a choice not to use it, which is not easy for Regina for multiple reasons. She's an addict to magic, even though she hates it, as we've seen her express so many times to Rumplestiltskin and also to her mother. But then I feel there's also a part of her that is really smart. It's the inner, inner deep, good person in her that probably knows it's best not to use magic, which is why they're in Storybrooke. Part of me feels like she created this world on some level to get away from all that. That's going really deep and in a direction I don't know if we'll ever discuss, but it's something I feel.
Henry doesn't quite trust her to do the right thing and not use magic for evil.
Parrilla: It's going to be very difficult to get her son back, if ever. We don't know if that will ever happen. That's a sad reality and a really scary one for her. But before she gives up, I think she's going to do everything she can in staying on the sober path, of not using magic and really confronting these demons and taking responsibility for things and owning up to things and truly doing the right thing. I don't think it's a phase, I don't think it's something she's just trying out. I think she's been woken up a bit. That woman that she once was, before she became the Evil Queen, still is in her somewhere. I think she's getting in touch with that part of herself again. It's that part of her that Henry really wants as a mother; although, it may be too late.
But there's a Catch-22 of sorts in that Henry wants her help to get Snow and Emma back, but in doing so, she would need to use magic to find them. Is that something we'll see her faced with?
Parrilla: Yes, you will see she desperately doesn't want to use magic because she knows Henry doesn't want her to. But right, it is a Catch-22. She's stuck in the middle. What does she do? She needs to find a way to bring Emma and Mary Margaret back. The only way to do so is through magic. But does she have to do it or could she get someone else to do it? I think that that's something we'll see. We'll explore that maybe it doesn't necessarily have to be her.
How will Regina and Mr. Gold continue to butt heads?
Parrilla: They have a very interesting relationship. Bobby and I always talk about it. They're really two peas in a pod. They really don't have anyone but each other at the end of the day. As much as they hate each other, as much as they're enemies, it's almost like there's this love too that's probably unspoken and never really expressed. They never really seem to hurt each other, even though they've tried. They try so many different ways. In Storybrooke, something has shifted for Regina. She is really lost. She just continues to keep losing everything from Daniel to Henry to her parents to everything. What's left? With Mr. Gold, he teases her a lot. I mean he really just rubs her face in all of this.
Is there anyone that's really on her side?
Parrilla: I was telling my boyfriend about her the other day. Sometimes it's hard. I'm the character and I just needed my space and I needed to be lone for a little bit. I was like, "You don't understand how much work I have. You don't know what she's going through. She's lost everyone and her mother!" And I just started bawling and he's like, "Oh my God. All right, Lan, you're exactly where you need to be to play the part, but I'm going to go over there." [Laughs] But I cry for her all the time. I mean, God, it's just heartbreaking what this woman is going through. It is. I think it's a really lonely, sad place for Regina to be left in Storybrooke without anyone. Even Gold, I mean he's there but he's not there.
Will we see more of the heart chamber and possibly who those hearts belong to?
Parrilla: You know, it's funny because I asked myself that question. Whose hearts do they belong to? Does she have Leroy's (Lee Arenberg) heart? Does she have Ruby's (Meghan Ory) heart? Granny's (Beverly Elliott) heart? And can she kill them at any given point? Do they remember? I don't know who these hearts belong to, but there is a lot of them. I think in time we will see whose hearts they belong to. I keep thinking about the heart that they found in Season 1. I don't know why I keep thinking about this stupid heart, but I'm like, "Whose heart was that?!" Remember it was supposed to be Kathryn's (Anastasia Griffith) and it wasn't because Kathryn was alive. But everyone's forgotten about this heart that was just buried in a jewelry box underneath the Troll Bridge. I make my own choice as an actor to go, "OK, this is what's in these boxes for me." I have my own memories that I've created.